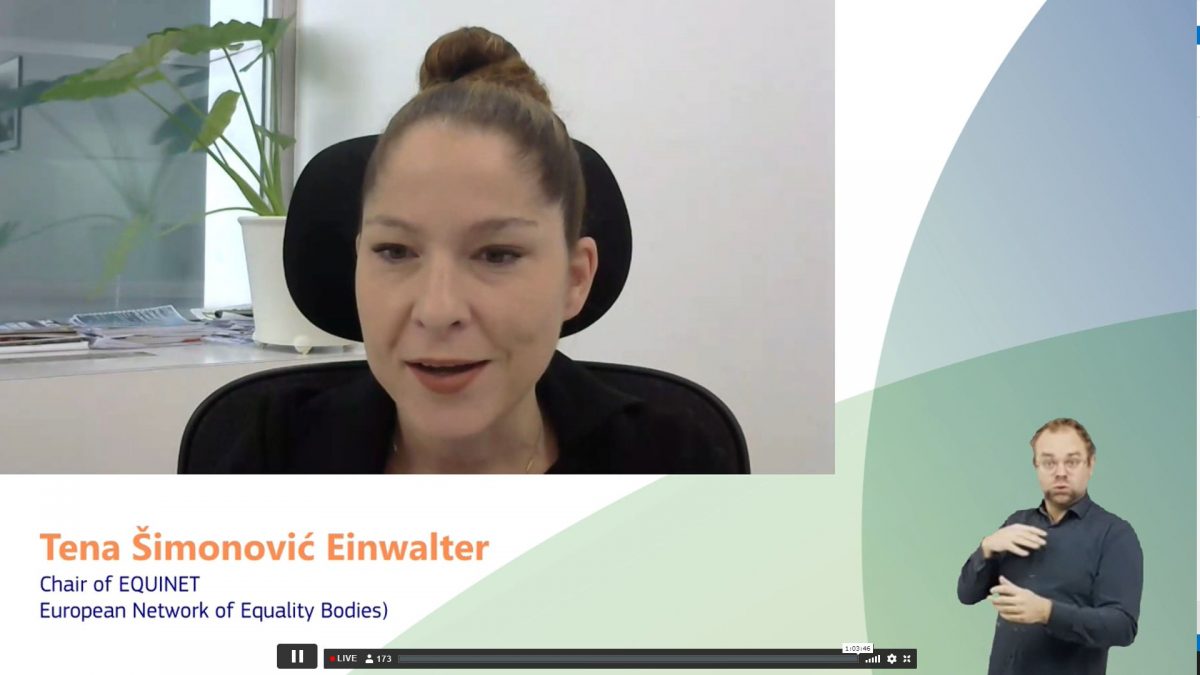 How does equality data support combatting discrimination and what are the challenges faced by equality bodies and other relevant stakeholders in compiling them – those were the topics of the Roundtable on Equality Data organized jointly by the European Commission and the European Union's Fundamental Rights Agency (FRA) on 30 September 2021.
Following the welcome address and introduction by Helena Dalli, European Equality Commissioner, and Michael O'Flaherty, Director of the Fundamental Rights Agency, the participants engaged in a series of panels on various facets of equality data collection. Tena Šimonović Einwalter, Ombudswoman and current Equinet chair participated in the high-level discussion on the necessity of equality data for the efficiently drafting, implementing and monitoring of equality policies.
"Collecting good-quality and comprehensive equality data is crucial if we are to have a clear picture of the incidence of discrimination, both at the EU as well as member states' levels. Only this sort of a realistic overview can make it possible for us to identify the key issues, create and implement efficient public policies and introduce the necessary legislative changes with a view of successfully combating discrimination and achieving full equality of all citizens," stressed Ombudswoman Šimonović Einwalter.
Equality bodies play a key role in this process since they already collect such data at the national levels, through their work on complaints, conducting polls, gathering data on case law and monitoring the effects of the national and European antidiscrimination legislation.
The uses of equality data are manifold: tracking the situation of the most disadvantaged and vulnerable groups, undertaking comprehensive analyses of both the causes and effects of discrimination, but also advocating for change at the legislative and policy levels.
Some of the challenges in the processes of equality data collection include the lack of effective resources to carry out surveys and polls and reliance on EU projects rather than national funding, the absence of systematic data collection, lacking internal data collection and processing procedures, as well as the lack of disaggregated data, both those related to various disadvantaged groups and those related to specific subgroups within them.
Raising awareness at the EU level of the importance of equality data collection is of paramount importance. Although often cited as an obstacle, GPDR should not prevent it, as long as proper procedures are respected. Underreporting of discrimination, especially prevalent in certain vulnerable groups, can be a challenge as well. To counter this, equality bodies need to do better to engage in dialog and build trust.
Ambitious and legally binding standards for equality bodies at the EU level and the monitoring of their implementation by the European Commission would significantly facilitate the process of equality data collection, whereas data quality would benefit from their disaggregation by the full range of discrimination grounds, going beyond the six encompassed by EU directives.
"Equality bodies already have significant potential for equality data collection and their interpretation and already use them to facilitate the creation of efficient equality policies. To further build on this potential and enable them to gather reliable and comparable data at the national levels, they need to be properly resourced and have adequate powers. And achieving that is what lies ahead of us in the future," concluded Ombudswoman Šimonović Einwalter.
Related posts