The Assembly was addressed by the Ukrainian Parliament Commissioner for Human Rights Lyudmyla Denisova
More than 45 European NHRI representatives gathered online on 31 March 2022 for the first annual General Assembly of the European Network of National Human Rights Institutions (ENNRHI), with a focus on the refugee movement and the global expressions of solidarity following the beginning of the war in Ukraine and the movement of more than 4 million people across its borders, as well as on the possible avenues of supporting the Ukrainian Parliament Commissioner for Human Rights.
The members exchanged the information on the crucial war-related human rights challenges, including the Ukrainian NHRI's needs for support, ENNHRI members' efforts to support both the refugees fleeing Ukraine as well as their Ukrainian colleagues, as well as the potential future network activities in this context.
Commissioner Denisova reported on the human rights violations in Ukraine since the war's beginning and her institutions work in the current conditions, expressing gratitude to NHRIs and the network for the support she received from them in this difficult situation for the Ukrainian people.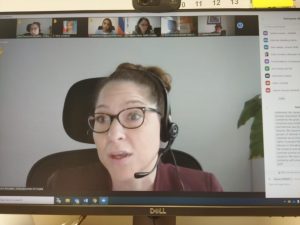 Ombudswoman Šimonović Einwalter reiterated our institution's support and spoke about our close cooperation with the competent national authorities regarding the reception of and providing assistance to the refugees arriving from Ukraine and providing them with the rights they are entitled to. She emphasized the important role of the Ukrainian NHRI's evidence gathering activities for the future judicial processes related to human rights violations currently taking place in Ukraine.
Head of the Russian Federation's NHRI Tatiana Moskalkova, addressed the members as well.
ENNHRI's first General Assembly of 2022 marks the end of our institution's mandate in the network's Board and the beginning of the mandates of the new office holders – new Chair, Sirpa Rautio, head of the Finnish NHRI, and the new Board members – representatives of the Albanian, German, Polish, Bulgarian and Norwegian NHRIs.